COVID-19 Travel and Visa Updates
Australian citizens and residents are currently banned from international travel with limited exceptions


The Australian government is still accepting and processing visa and citizenship applications


All arrivals into Australia currently face a mandatory 14-day quarantine at their point of entry
Regular summaries from the Emergico Visa Team
2nd May 2020
PM alludes to major drop in net migration in Australia for 2020/21
After a quiet few weeks on the travel/visa front as Australia waits to see the impact of its lockdown restrictions, Prime Minister Scott Morrison has predicted the effect of COVID-19 on net overseas migration will be significant in 2020/21, with a drop of 85% compared to 2018/19 levels.
While at first this seems alarming, keep in mind that "net overseas migration" (NOM) is defined as "the net gain or loss of population through immigration to Australia and emigration from Australia." (see here).
Critically, this is a different calculation from the annual migration cap on visa grants of 160,000 for 2019/20, which Morrison announced last year.  The expected drop in the 2020/21 program year, which starts on 1st July, includes temporary visa holders (students, temporary workers, working holiday makers and visitors) who may be restricted from entry due to travel bans.
We do expect there to be an impact on the levels of visa applications finalised in the coming months, and we will be watching attentively for further news and emerging trends.
If you're interested in pursuing a visa to Australia, there has never been a more important time to seek professional assistance with your options.

Start by completing our eligibility form and we'll get back to you.
6th April 2020
New COVID-19 Visa Stream Announced

The Department of Home Affairs has announced a new 'Stream' to the Temporary Activity visa (subclass 408), to cover certain temporary residents with who are unable to depart Australia and have no other visa options. Applicants must have 28 days or less remaining on their current visa, or have had a substantive visa expire up to 28 days previously.
The Temporary Activity visa has a stream which allows for participation in events which are endorsed by the Australian government. For the purposes of this visa, the COVID-19 Pandemic has been designated an "Event".
The new COVID-19 Pandemic stream allows certain former and current temporary visa holders to remain in Australia, provided they "assist in critical sectors including healthcare, disability and aged care, childcare and agriculture during the COVID-19 pandemic."
There is no visa application charge for applications submitted under this pathway.
Citizenship ceremonies to be conducted online
The Department of Home Affairs have announced their intention to conduct online citizenship ceremonies, potentially conferring up to 750 people per day.
Until today, migrants have effectively been stuck in limbo, technically qualifying for citizenship but unable to progress to conferral via a standard ceremony they are required to physically attend, due to Australia's current social distancing guidelines.
There are currently 85,000 people waiting for a ceremony, with those already scheduled for an event to be notified. There remains a halt on interviews and testing.

4th April 2020
Minister announces relief measures for temporary visa holders

Read our
blog post
for an explanation of the measures that the Minister has announced for temporary visa holders.  These include people on temporary work visas and International Students. 
Since this announcement occurred late yesterday, we don't yet have details about how this will work, but we expect they will be forthcoming in the next week or so, and we'll update here.
Apart from the
measures announced,
the Prime Minister has urged people who are visitors in Australia, or who are on temporary visas but don't believe they will be able to support themselves during this crisis, to return home as soon as possible.  
3rd April 2020
Emergico launches special COVID-19 Visa Consultation

There is now a special consultation available with our team of MARA Registered Migration agents, for anyone concerned about the impact of COVID-19 on their plans to apply for an Australian visa. 
The half-hour consultation, conducted by phone or Skype, has been made available at the same rate as our standard 15 minute consultations.
Our team are closely monitoring updates, policies and emerging trends from the Department of Home Affairs and State/Territory governments, and can provide advice according to the latest information.
If you're keen to get some clarity on where things stand for you right now, click above to register your interest and set up your consultation.
2nd April 2020
Western Australia closes its borders

From midnight on Sunday, WA becomes the latest State in Australia to close its borders from the Eastern States.
Describing the effect as "turning Western Australia into an island within an island"., Premier Mark McGowan announced a temporary closure of WA's interstate border, replacing the existing policy requiring visitors to self-isolate for 14 days.
He advised anyone from elsewhere in Australia thinking of travelling to WA to "forget about it."
Further details of the border closure have yet to be finalised.

31st March 2020
JobKeeper Payment

The Treasurer announced a $130 billion package yesterday, to subsidise affected workers to the total value of $1,500 per fortnight, aiming to keep Australians in jobs. 
Further, he announced that the JobSeeker Payment would be extended to New Zealand citizens on a Subclass 444 visa. 
At this stage, relief has not been announced for people on any other type of temporary visa.  However we keep alert for any update in this regard. 
The Australian Government is aiming to shore up businesses so that they can resume operations without interruption after the COVID-19 crisis is over, and without incurring crippling debt while trying to stay afloat.  
30th March 2020
State & Territory Borders Enhanced

Both Queensland and the Northern Territory announced plans to enhance their border restrictions today.
Queensland's border was already closed on Wednesday last week, and a requirement was in place to self-isolate. However, from Friday 3rd April,  non-residents who don't hold an approved border permit will not be allowed into the State at all.
In the Northern Territory, all arrivals from interstate or overseas will be ordered into 14 days of forced and supervised quarantine. This measure will come into effect at midnight on 1st April, while from midnight on 3rd April, arrivals will be required to pay for their accommodation during the quarantine period.
29th March 2020
State Migration Sponsorships
Can you still proceed with a state sponsored visa, for skilled or business? Below is a summary of the current status of each State and Territory, in respect of Skilled Migration (Subclass 190 and 491) and Business Migration (188 and 132). Note that this information is drawn from each State's website. For specific details, check the website that applies.
This information applies to NEW applications, and not applications in progress.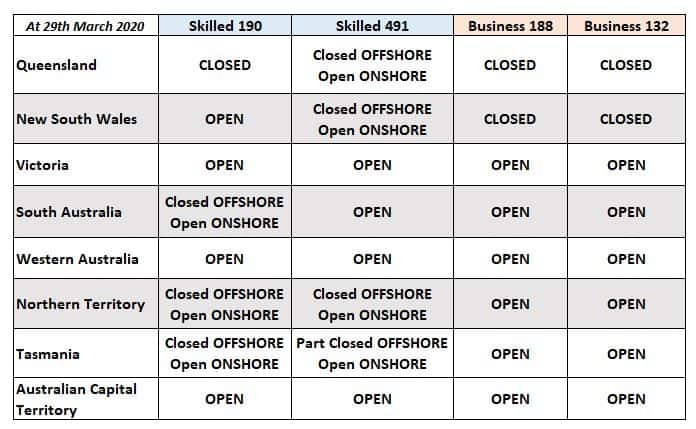 28th March 2020
International Arrival Quarantine
International arrivals to Australia will now face a mandatory 14 day quarantine period at their point of entry.  Arrivals will be quarantined in local accommodation, at no cost to them.  This policy comes into force at 11:59pm tonight.
Aviation Roundup
With all non-essential travel effectively banned in Australia, let's look at Australia's major airlines and the impact to travellers.
Qantas:  Domestically, Qantas are suspending over half their fleet until at least 31st May.  Find out which routes are impacted here.  Internationally, the airline is suspending all international flights from the end of March until 31st May, with over 150 aircraft grounded.  Updates available here.
Virgin Australia:  Domestically, Virgin Australia have cut their capacity by 90 per cent.  Almost all restrictions were implemented on or before March 27th. All international services are suspended from 30th March until 14th June.
Jetstar: A subsidiary of Qantas, Jetstar mainly fly domestically in Australia, where 70% of their service is suspended until 31st May.  As with Qantas, Jetstar have suspended international flights entirely, until the same date.  Options for anyone affected can be found here.
Tigerair: Owned and managed by Virgin Australia, Tigerair suspended all operations from March 25th until further notice.
26th March 2020
Travel Restrictions Updated

Entry to Australia is currently only available for citizens and permanent residents, immediate family members of citizens or PR (that is, spouse or dependent children), and New Zealand citizens who can prove they are normally resident in Australia.  However, the Commissioner of Border Force has the discretion to grant additional entry exemptions to people on a case by case basis.  This might include people with critical skill sets whose entry would be in the national interest in the fight against COVID, or other people on humanitarian or compassionate grounds.  There is a special form for this purpose, which can be found here.

State Border Closures

Queensland's border is now closed, and people entering Queensland must self-isolate for 14 days, unless exempt.  Full details can be found here.

Arrivals to New South Wales will now have their temperature taken.
Administrative Appeals Tribunal

The Tribunal is not holding any face to face hearings.  They may conduct hearings by teleconference or video. 
BUPA has resumed visa medical appointments.   If you need to book a visa medical in Australia you can now request an appointment through their website.  There are some guidelines and restrictions.
25th March 2020
International Arrival Restrictions
A ban on Australian citizens travelling overseas was announced last night and will come into effect at midday today.  Exceptions will be made on strictly "essential" or "compassionate" grounds, and for permanent residents of overseas countries.
Tigerair Australia, an airline owned and operated by Virgin Australia, suspended all services from 8:30am today until further notice.
24th March 2020
State Border Closures
It's been a busy day of news for many States and Territories in Australia, as border closures and arrival requirements come into effect. Here's the latest for each area:
Northern Territories:  Strict border controls came into effect today. Arrivals must declare they will self-isolate for 14 days and provide their location upon entry. This is likely to continue until at least September.
South Australia:  State borders are effectively closed. New arrivals are required to sign a declaration that they will self-isolate for 14 days and provide their address to the police.
Tasmania:  Non-essential travellers, including returning residents, are subject to a mandatory 14 day quarantine from 20th March.
Western Australia:  Borders in Australia's largest State closed from today, 24th March, with all interstate arrivals required to self-isolate for 14 days.
Australian Capital Territory, New South Wales & Victoria:  No border closures or entry requirements have been announced to date.
20th March 2020
From 9pm, only Australian citizens, residents and immediate family members can travel to Australia.  In addition, arrivals are required to self-isolate for 14 days, either at home or at a hotel.
Travel Ban Exemptions are in place for:
New Zealand Citizens who are usually resident in Australia;
Temporary Visa Holders who have already established a presence in Australia – by approval, on a case by case basis. 
This is a dynamic situation, and there may not be answers to many questions at this time.  We will update regularly.