This year it's been our absolute pleasure to help several clients to achieve permanent residency visas through the new Global Talent Initiative.
We're excited to profile Emergico's first two Distinguished Talent Visa recipients under this program, both very impressive entrepreneurs who are sure to make a huge impression on Queensland and Australia very soon!
Elizabeth Moench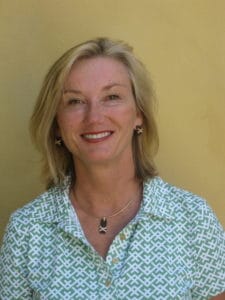 With a background in the United States of America and the United Kingdom, Elizabeth (Liz) Moench is a highly respected global pharmaceutical executive with an industry career spanning 30 years.  An inspiring role model for women in STEM, she founded MediciGroup Inc., a company dedicated to accelerating the clinical trial process through proactively finding and matching patients to clinical trial protocols and retaining patients until study conclusion.  In 2015, MediciGroup was acquired by US based BioClinica, a global clinical trials services company, and the largest medical imaging company in clinical trials.
With a wealth of business and executive level acumen, including significant experience in direct to patient marketing for clinical trials, she had a desire to join her son and his young family in Australia. Liz sought professional migration advice from us.  It can be difficult for people over 45 to migrate permanently to Australia, (yet ironically this pool of older professionals can offer Australia significant depth of experience).
The new Global Talent Visa Program, launched in November 2019, aims to attract highly skilled and successful entrepreneurs through a fast-tracked permanent residency visa pathway, when specifically invited to apply.  The Visa Program cuts through much of the bureaucratic red tape and complexity of the visa application process, thereby accelerating timelines while still retaining the essential integrity and security checks.  The Global Talent Program is structured for efficiency and swift results.  The Government wisely acknowledges that entrepreneurs cannot wait 12 months to execute a business or an idea.  Furthermore, Australia is seeking to attract high calibre people who will create new businesses and generate jobs for its economic growth.
After being nominated, Liz was delighted to become one of the first recipients of the Distinguished Talent (Global Talent) Visa, in October 2019.  The new visa program has provided a perfect opportunity for Liz to become a permanent resident (PR) without delay.  Upon receiving PR, she is already moving forward to structure the company, operationalize business plans, develop local contacts and mentor new start-ups in STEM industries.  She plans to leave her mark here!
Will Banks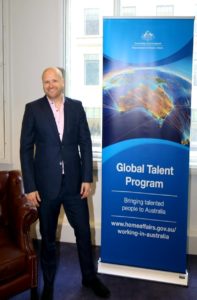 The first ever European recipient of the Distinguished Talent (Global Talent) Visa – Will Banks, has a wealth of experience in the financial technology and banking industry.  He is the founder of DayTek Capital, which is building "Infinity" – the first neobank to be based in Queensland.  A 'neobank' is a disruptor to traditional banking structures, operating on a digital platform, and not having traditional bricks and mortar branches.   Infinity will launch in the first half of 2020.
Will has demonstrated his success through an impeccable track record with startups in the banking sector in the UK and Europe.
Infinity has attracted the attention of the Queensland State Government, and has received support through Trade and Investment Queensland, which actively encourages innovation and new product development.    This venture will be an absolute first for Queensland.
DayTek Capital and Infinity have attracted a great deal of publicity including:
We're certainly waiting with interest for the launch of Infinity, with the hope that Emergico might become one of the first business banking customers!
Will Banks was very happy that the Global Talent Visa process was quick and responsive, allowing him to focus his energy and attention on his business venture.
Both Will Banks and Liz Moench received their Global Talent visas within a matter of weeks.  The Australian Government is serious about attracting and retaining talented people, who will help to shape the future of our country.
Think you have what it takes to become a Global Talent visa holder?   Contact us for a confidential review of your situation.