You're planning to apply for an Australian visa, but COVID-19 has arrived and no one in the world is unaffected.  Should you continue with your visa plans, or put your plans on hold for  now?
In most cases, there is no reason to stop your visa plans. 
Having said that, it depends on all sorts of things.  Such as:
Are you in Australia now, on a temporary visa, which is expiring?
Do you have special skills which could be of particular value right now?
Are you prepared to be in this for the long haul, and accept that a decision on the visa might be delayed?
Are you confident you will have the financial means to go ahead with a move, when the crisis is over?
If you're in Australia on a temporary visa, definitely you need to consider another visa before it expires.  Here's a post we wrote recently, about obtaining a Visitor Visa.  There could be other visas available, depending on your situation.
Applying for a visa is often a long term project, encompassing many months, or even years, so it's likely that by the time it is ready for grant, the travel bans will be in the past.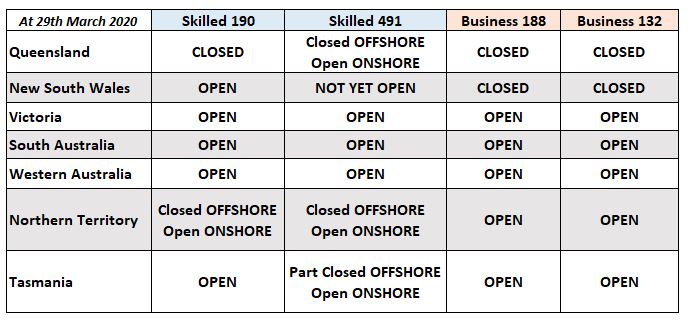 In terms of Skilled and Business migration, here is a table showing the current availability of each State.  It will vary on a daily basis, so best to check directly with your Migration Agent or with the State.  But, many States are continuing to process applications, although many have closed to offshore people for the time being.
Partner and Parent visas can still be lodged, and may be a good option to consider now if you are onshore, so that you can remain lawfully in Australia on a bridging visa.  As a bonus, you'd have full work rights on a Bridging Visa once it comes into effect.  Alternatively, you could apply for a Partner Visa offshore, and by the time the visa is processed, the COVID-19 situation will hopefully be in the past.
If you're outside Australia and in the process of applying for a Temporary Work visa, it's worth making sure that the employer still requires your services.  An application may proceed, but unless you are in a critical occupation, it could be difficult to enter Australia to start work, at the current time.  Exceptions are being made for people who can add value in the current crisis – for example, specialist healthcare workers.
Of course, if you are onshore and unable to leave, there are visa options for you.  We can assist with advice or lodgment of a visa application and/or waiver request on your behalf.
We anticipate that when things return to normal, there will be strong demand for skilled labour in Australia, and a high demand for visas.
By continuing steadily with your visa plans now, you will be in pole position when the time comes.
Contact us if you would like to discuss any new visa applications.