One of the factors which complicates a visa application is split families and non-custodial parents of children under 18.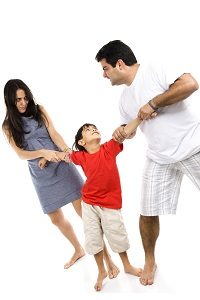 Australia has very strict obligations under international law, to ensure that there is never a suggestion of child abduction – which can happen if a non-custodial parent does not consent to their child obtaining a visa with the other parent.   Because of this, the visa process will require you to prove beyond doubt that there is no impediment to the child travelling.  The Australian Government does not want to make international news headlines for the wrong reasons!!
It might sound unfair, epecially when an ex has no contact, but this catches out many people.  Adversarial breakups might result in one parent being un co-operative.    The fact that a non-custodial parent may not see the child or contribute to their welfare, has little bearing on it.
A recent client of ours was in a similar situation.  She received poor advice from a previous agent that the best thing for her to do was to apply for a 457 visa herself, while her husband and three children applied for a tourist visa so they could be added to the 457 while onshore.   When she did this, the Department asked for evidence of consent of the oldest child's biological father.  As the father had never been in the child's life, she sought legal advice and found out that in fact she risked prosecution because she had removed the child from their home country for more than 30 days without consent of the father.    The whole situation became a complete mess for her; and resulted in disruption of the family's plans, not to mention the costs involved.
There are a few ways that you can satisfy the requirements.    The simplest (and cheapest) is for the non-custodial parent to sign a special DIBP form consenting to the child obtaining a visa.    If this is not possible, a Court Order from the home country may be necessary, which specifies that the parent has sole custody and is the only person who can determine where the child will live.  If the biological parent has died, a death cetificate would be attached to the visa application.  In cases where you can't contact the biological parent, or they will not respond to contact requests, it might be wise to get legal advice from your home country.    In the past I've found that a letter from a UK solicitor, explaining the laws in the home country in relation to parental rights, has had a successful outcome with a visa when no parent could be located.
Remember – it's not up to the Australian DIBP to research this for you – it's up to you to prove to them that your child can travel lawfully.
Far better to work it all out BEFORE lodging that application!
For professional help contact Emergico Migration.