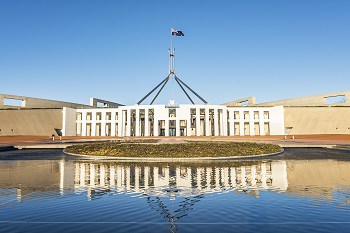 People around the world seem to know about the antics of the Australian Government last week.   Our "revolving door" of Prime Ministers has been reported widely – we've had 7 different Prime Ministers in 10 years!    Last week, a leadership challenge was mounted against the incumbent Australian Prime Minister, Malcolm Turnbull, by one of his parliamentary colleagues, who just happened to be the Minister for Home Affairs, Peter Dutton.
After a couple of tense days, the Party selected a new leader, Scott Morrison.   Mr Morrison was previously the Treasurer; but  previously held the important portfolio of Immigration and Border Protection before its amalgamation into the super-department of Home Affairs.
Parliament has concluded for the current sitting; the Cabinet has completely re-shaped, and many members of parliament have slunk back home feeling bruised and battered.   The Australian public is anticipating an election soon…it has to be held before May 2019….
Get to the point…… what does this all mean for my visa application?
Since 2017, the Immigration function has been gradually absorbed into the super portfolio of Home Affairs, which also takes responsibility for customs, border control, national security, emergency management and cyber security, along with Australian Federal Police.
Prior to the spill, the Immigration function was, in practice, managed by three Ministers, who divided certain functions between themselves.   These included Peter Dutton (Minister for Home Affairs) Alan Tudge (Citizenship and Multicultural Affairs) and Alex Hawke (Assistant Minister for Home Affairs).
With massive immigration policy changes last year; visa processing time blowouts and increasing costs, many people feel that Immigration has taken a back seat other important priorities, such as counter terrorism.
Prime Minister Morrison, in his first day in the job, announced a new Cabinet, and has signalled his intention to re-establish a separate Immigration portfolio with its own Minister.    David Coleman was appointed the new Minister for Immigration, Citizenship and Multicultural Affairs. 
When you're going through, or contemplating, a visa or migration process, you have an intense interest in anything that might affect you.   The good news is that Mr Morrison appears to have a greater appreciation of the economic benefit of migrants that perhaps some of his colleagues.
Click here to read one journalist's report.  
It's early days yet – in fact there has not even been one business day since the new Prime Minister was appointed, but I'm cautiously optimistic that we might see a more focused approach.   We'll keep you updated.