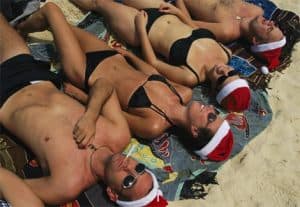 One of Sydney's top ten destinations popular with both locals and visitors alike is set to benefit from a "New Vision".
This icon attracts up to $1.8 million visitors per annum and up to 50,000 beachgoers a day on hot Summer days.
Now, a few clues…..
Often this beachside destination is the first port of call for UK backpackers after they emerge from the Sydney airport arrival lounge after their 10,000 mile flight from London.
The number of Brits who have spent Xmas Day surfing here and working on the tan, primed with a few "coldies" would be in the thousands.
Enough clues ? Yes you guessed it….
Bondi Beach is set for a makeover

.

The beach location is centre stage of TV series featuring bronzed Aussie surf lifesavers and their rescues, many of which seem to include "tired and emotional" travellers. Bondi was also the destination of one of the best "flash-mob"  episodes we have ever seen. Remember the T-Mobile flash mobs ?
Click here for Aussie's answer to T-Mobile!

The public is now being encouraged to provide input into Bondi's future as to how it can be improved in years to come.