It's nearly Christmas!  Only a few sleeps before Santa pops over to Australia on his once-a-year flying visit.
While on the outside it seems to work very smoothly – excited kids go to bed on Christmas eve, and wake to find presents in their Christmas stocking – you'd be surprised how much planning is required to make it all happen.  We thought you'd like to know a little about Santa's logistics, and how the Department of Home Affairs plays an important role in facilitating his visit to Australia.
Santa's Visa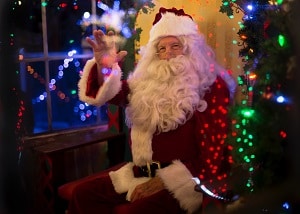 Firstly, Santa must get a visa.  It's unlawful for anyone to set foot in Australia who is not an Australian permanent resident or citizen, unless they are holding a valid visa.  Because Santa is only here for a night and he does not get paid for working in Australia, it's appropriate for him to come in on a Business Visitor Visa.  As Santa holds a passport from Finland, he's eligible for the Business eVisitor Visa – it's free, and this is great because it means the money he saves can go into presents for children.
Before obtaining the Business eVisitor visa, he needs to prove that he is of good character – in Australia we don't let anyone in on that visa if they have any sort of criminal record.  Fortunately for Santa, the only things on his international criminal record are a fine for "willful damage to property"  (that happened one unfortunate night when he cracked a chimney after putting on just a little too much weight during the year – the problem never occurred again as he vowed to start Weight Watchers after New Year); and another instance where a local council complained when his reindeer left quite a pile of glitter poo after landing on a school oval.  Not enough of a criminal record to prevent Santa from crossing our border – he's a good man!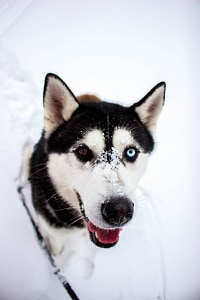 Can the Reindeer pass Customs? 
Perhaps the bigger issue for Santa is the customs clearance to get the reindeer across the border.  Australia has strict bio-security measures in place, designed to prevent the transmission of disease which could affect our agricultural industry.  Under current law, people can only bring cats, dogs and horses into Australia – so this poses something of a problem for Santa.  Reindeer are not on the list!  Well, to date Australian customs has turned a blind eye to the reindeer, so as not to be completely considered "The Grinch Who Stole Christmas".  But I'm told that Santa has been tapped on the shoulder and asked to consider swapping the reindeer for Siberian Huskys or Alaskan Malamutes in future.  This of course poses all sorts of problems about capacity loading, as a dog is much smaller than a reindeer.  Engineers have raised concerns about the sheer logistics, and how many dogs would be required to pull a sleigh through the atmosphere.  Not to mention the cost in reprints of millions of Christmas cards and books which feature Rudolph and his friends…
No exploitation of the Elves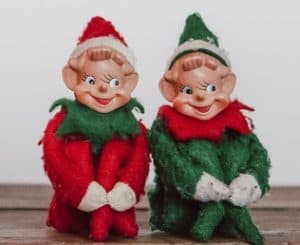 While we're on the subject of capacity, there's a bit of an issue this year, as the Australian Government has just passed the Modern Slavery Bill.  Designed to prevent Australia from supporting exploitation and slavery, the legislation makes it mandatory for large companies to manage the risk of slavery in their supply chains.  We all know that Santa's elves work their fingers to the bone over the busy Christmas period, making toys for all the children, and let's face it, there's not much down time!  Our Government is investigating whether the workplace practices at Santa's workshop in Lapland meet the requirements of the Modern Slavery legislation.  If not, in order to prevent a major international incident and Christmas meltdown by millions of kids next year, the Government might need to consider some amendments to the Act.
 Santa Cuts Through Red Tape 

Now, usually it would take quite a long time to get all of these things in line before the Trip on the 24th December.  Fortunately Santa received some awesome migration advice from Emergico, and signed up with the Department of Home Affairs to become a Trusted Trader, meaning that he gets a "light touch" at the border.  This means that red tape is reduced, and cargo is cleared into Australia much quicker.  In fact, Santa credits the Trusted Trader program with being the only thing that has allowed him to keep to his time schedule – just imagine the hold up if all of those presents need to be x-rayed and screened by customs!
How You can Help Santa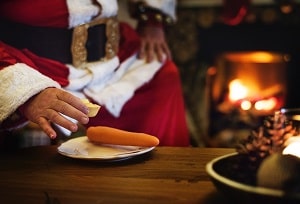 Finally, a message from Santa.  He's looking forward to his visit to Australia, and – as much as he is grateful to everyone – he would like to request that, to avoid a repeat of the chimney incident, please don't leave mince pies and biscuits – they only contribute to his waistline and makes weight loss more difficult in January.  A low carbohydrate protein shake, or a nice glass of mineral water would be just fine.
And to avoid bio-security hazards including glitter poo on your front lawn, best not to feed the reindeer too much.  They do appreciate a nice carrot but forget the oats with glitter.
Here at Emergico, we've loved helping our clients this year through their ups and downs.  We hope that everyone has a lovely, restful Christmas, wherever you are in the world, and that you take the opportunity to spend time with loved ones.  We look forward to many more visa grants and happy customers next year!
Merry Christmas and a Happy New Year!