Everyone knows that it's hard to get to Australia, right? It's a very desirable place to live.
In the 1960's there was a campaign affectionately called the "Ten Pound Pom". Australia was desperately short of skilled labour after the end of World War 2, and put out a call to English people who wished to migrate. The "visa" cost 10 pounds for the whole family! And there was nowhere near the amount of paperwork as now!!
In those days, Australia had a population of around 6 million. Considering that many of these were children, non-working women and the elderly, it follows that there were nowhere near enough workers to keep the country growing. And – since there were no more convicts to provide free labour – there was a massive labour shortage facing some very large infrastructure projects, such as the Snowy Mountain Hydro Scheme.
Visas were pretty simple back then. And in some cases, optional. There are still a few people in Australia who don't even hold a visa! People who came in as children on their parent's visa; who didn't hold a passport of their own; who have never travelled outside the country, who are still citizens of another country but have been here for most of their lives.
40 Years On – The Place Has Changed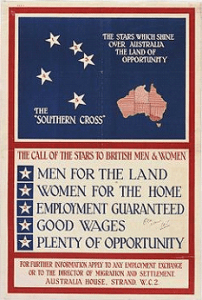 Forty years on, with a population of 22 million, the rest of the world has now found out how amazing this country is. And lots of people want to come here. Migration to Australia is now a very complicated thing. And the rules changes all the time – the Migration Act and Regulations are updated around 60 times a year!!!
You need to have something quite special to get a visa to live in this country. A skill in demand; a qualification which is in short supply in Australia; a job offer; or a marriage or long term partnership with an Australian permanent resident. Or perhaps an opportunity to study here – but that's hard too – you need to prove that you are going to return home after your study is finished – if you can't do that you will be refused!!
These days, it's hard to get a visa if you don't pass the "character test" because of a criminal record. Pretty ironic when you think that, in 1788 when Australia was a convict settlement, you couldn't get here WITHOUT a conviction!!!! And you came for free!!