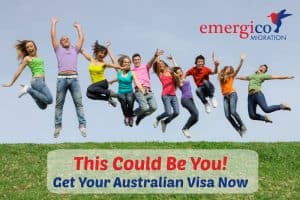 If YOU dream of having the sand between your toes in Australia in 2016, now is the time to act.    Or – perhaps you already have your visa, but someone special to you needs a helping hand to make it to Oz.
At Emergico, we've had such an incredible year in 2015, helping hundreds of people to secure a new life.  And 2016 is shaping up to be bigger and better.   With many changes in our business – including our very succcessful move into the UK – we're ready to improve our services even more in 2016.
But we know that as time marches on, fees and charges inevitably rise and everything becomes more expensive, perhaps even out of reach for some.  (Not to mention that Migration law changes all the time…)
That's why we have two SPECIAL OFFERS for our clients and friends.
If you are in the market for a Visa for youself – join us now, before December 31 – and our fees for your Visa process will be capped at the old 2015 prices – even if we don't start the work until early in 2016.   Just think of what you could do with the savings…
 Refer a Friend who signs up with us before December 31.   You'll receive a $50 AUD Gift Voucher of your choice (or a £25 Gift Voucher if you're in the UK).  Plus, your friend will be able to sign up at the old 2015 prices.
We still offer our FREE initial consultation, to determine your eligibility, because we don't believe in wasting anyone's time or money.   Our promise to you is that if we genuinely believe we can help, you'll be high on our priority list.
Contact us now – and make sure you mention our  "Make 2016 your Year" Special Offer!