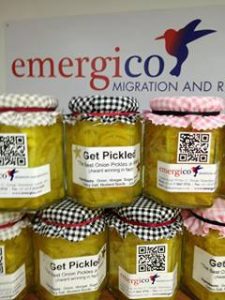 Emergico Migration and Relocation was a proud Sponsor of the Wilston State School Fair in September.  We lovingly pickled around 30 jars of Onions for sale.   The reaction from the Wilston community was overwhelming – we've had so many requests for the Recipe – we thought we would share it with you.
*WARNING – these onions are highly addictive.   It's hard – or impossible – to stop at just one helping.  Contents of the jar may reduce dramatically with little warning.
To see the recipe……
GET PICKLED –  EMERGICO'S AWARD WINNING ONIONS
3 kg old brown onions, sliced
1/2 cup sea salt
3 cups white sugar
1 litre Apple Cider Vinegar
1 teaspoon Turmeric
2 teaspoons Celery Salt
2 tablespoons Yellow Mustard Seeds.
First prepare some jars for the onions.  Wash jars thoroughly; then place on an oven tray.  Turn the oven on to 150 degrees.   Once it has reached temperature, turn off, put the jars in the oven and leave for 10 minutes to sterilise.   Boil the lids for the jars in water for 10 minutes.
Using a large bucket, add iced water and sea salt to the sliced onions – enough to cover them. Leave for 3 hours – this makes the onions crisp.  Drain.
Combine all other ingredients in a large saucepan on the stove.  Add the onions, and bring to the boil.  Simmer for a few minutes – don't let the onions get too soft.
Bottle the onions immediately, fill to the brim with the vinegar mix, then seal the jars.
And – voila – Pickled Onions.   The onions are best if left for a few weeks before eating, to let the flavour develop.
Excellent with cheese and biscuits; or in sandwiches.  Kids will love them too!