Do you need to prove your English language ability?
Many Visas require you to prove your competency in English language.  Previously, the IELTS test was the only prescribed acceptable test (apart from OET for medical workers).  In the last couple of years, legislative changes have opened the door to additional English tests now being accepted by the Department of Immigration. Apart from IELTS and OET; there are now three additional tests which are accepted for certain visas.  The complete list is as follows:
•Pearson Test of English (PTE Academic)
•Cambridge English Advanced (CAE)
•Test of English as a Foreign Language (TOEFL iBT)
•Occupational English Test (OET) – specific to only a few health occupations.
•International English Language Testing System (IELTS).
Which Test should I choose?
IELTS is probably the best known and most widely available test.
OET is available only to people in certain occupations, mainly doctors and nurses.
There has been very positive feedback from our clients about the Pearson Test of English (Academic). A number of our clients who have previously struggled with IELTS, have been successful with the Pearson test.  The main difference seems to be that the PTE is an online assessment, whereas certain parts of the IELTS test rely on handwriting.
Below is a table outlining the scores you will need, for your particular visa.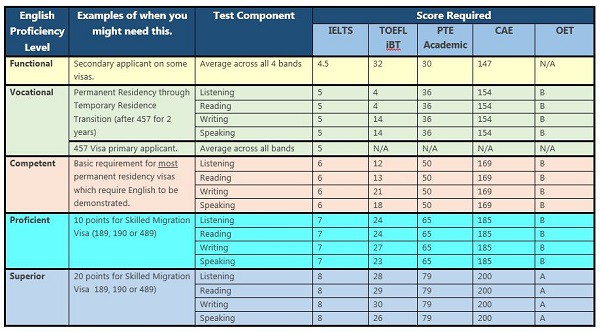 About the Pearson Test of English (Academic)
There are numerous test centres around the world.   Here's a Fact Sheet to help you find the closest one to you.  PTE Global Test Centre current Jan 2015
Test results are available after five days; and tests are usually accessible within a couple of weeks.   The cost of the test appears comparable to IELTS.
How does the Pearson Test compare to IELTS?
This fact sheet provides a useful comparison.   PTEA Comparison to IELTS
Further Information about the Pearson Test. 
For the most comprehensive overview, download this fact sheet.   PTE Academic Agent Brochure
About the IELTS Test
IELTS Tests are held in hundreds of locations around the world – you can find a test location by going to the IELTS Official Website and clicking "Find a Test Location near You".  Tests are held regularly and results are available after two weeks.
Still concerned and confused about meeting the English requirement?
There are certain people who will be exempt from the need to provide a test result, and similarly, some Visas don't call for an applicant to prove their English ability. For more on this and whether or not you need to pass an English test, click here to contact us.
We advise taking a strategic approach to all visa and migration issues.   Having a Registered Migration Agent look at your case, can prevent you from making costly or time consuming mistakes.
Emergico's Registered Migration Agents can provide you with expert advice about whether you need to meet an English requirement for visa purposes; and if so how.    Contact us at any time for a free, no obligation consultation.