Want to escape the cold weather and economic uncertainty?  Visualise yourself sitting on a beautiful beach while earning your keep?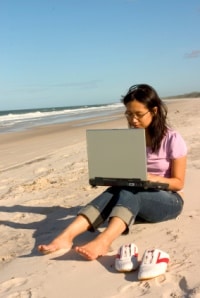 Many people want to obtain a "Work Permit" for Australia.   I though it would be useful to describe what this actually means, and how you might go about it.
Firstly, in order to work in Australia, you must have a Visa if you are not a citizen.  Many Australian visas – such as Tourist Visas – won't allow you to do any sort of work that would normally attract remuneration.
Many people come to us, who are looking for a way of entering Australia on a temporary basis in order to work.   Realistically, there are only a couple of ways to do this.
If you're under 31, and hold a passport from a few specified countries in the world, you might be eligible for a Working Holiday Visa.   This is a gift from Australia – a 12 month visa allowing you to travel the country and work while you are there, with a few restrictions.  And, there could be opportunities to extend your stay once you're here.   It's the first step in a pathway through which many young people have eventually obtained residency here.  But citizens of many countries are excluded from this opportunity.
Otherwise, in order to work temporarily in Australia, you must have a job offer from an Australian employer.  Then, provided lots of boxes are ticked – both by the employer and yourself –  you can apply for a temporary visa that will give you up to 4 years of work rights, while being sponsored by your employer.  There are lots of restrictions on this visa – you must remain with the same employer, you must work in the occupation that you were nominated for; you must be paid a market rate of salary so that conditions for local workers are not undermined; and – in future –  the employer will have to prove that no Australian worker was available before you can be granted a work permit.  Plus, you must have an occupation which is listed as "in demand" , and suitable qualifications and experience to undertake the role.
So it's just not as simple as asking the government for permission to work in Australia.  It's a multiple stage process, which can take several weeks to arrange.  And not every application is successful.   There are some people who simply will not qualify for an Australian work permit under employer sponsorship, for a range of reasons.
However, if you can obtain such a visa, you might then have a pathway to permanent residency.  Each person's situation is different – that's where it pays to get individual migration advice.
There are several other temporary visas which might allow people the right to work.  For example – people on student visas may have restricted work rights – however work is not the primary reason for this visa – you must be a genuine student.   In certain other cases, temporary work rights might be available.   For example – you've just built your dream mansion and imported several tonnes of Italian marble at huge expense.  The Italian marble company will only trust their own specialised stonemasons to perform the installation in your home.  A temporary work visa may be possible for this particular purpose.
Looking for more information about Work Permits?  Contact us to talk about your situation.