July 1st.  Usually a time of optimism for would-be visa applicants.  New budget, new allocation of visas within the migration program, a time when States refine and re-open their Nominations for skilled and business visas.  Often, a revision of the skilled occupations list – while not always welcome by everyone – does at least bring a bit of certainty and clarity in direction for a while.  Normally, there's a corresponding increase in visa application charges to match the Consumer Price Increase.
But 2020 is no ordinary year.
And July 1st, 2020, stands to pass as a day when nothing remarkable in Australian visa world will be likely to happen.
Why has this happened? 
Prior to the year 2019 BC ("Before COVID"), the routine was that in May each year, the Government of the day releases to the Parliament the Budget  ("the Appropriations Bill") for the following year.  The Appropriations Bill is formulated based on projections for income and tax revenue; and outlines government planned expenditure.  The Bill is debated and eventually, the Budget becomes law before the 1st July of that year – allowing the Government to spend money.  The Budget includes the release of the Migration Program, which includes a detailed breakdown of the allocations of visa places in the various categories – skilled, business, family, parent.  It also includes a review of visa application charges which will apply to each visa.
But, COVID-19 struck in February and turned everyone's world upside down.
In March 2020, the Australian Prime Minister announced that the 2020-21 Budget would be held over until the first week in October.  The rationale was that, in the current state of pandemic-imposed turmoil, it would be impossible to make any sorts of realistic forecasts around the future economy.
Inevitably the flow-on effect means that all States and Territories have also pushed back their budgets until later in the year.
What does this mean for Visa Applicants?
If you're after a Partner or a Parent Visa, it's pretty much "business as usual".  These applications can be lodged.  There is of course a chance that offshore cases may be delayed, as the Department prioritises response to onshore cases.  But long processing times are the norm anyway, for Partner and Parent cases.
For people waiting to apply for nomination under the Skilled or Business Programs – the wait continues.  Many States are already closed, having run out of visa allocation during the 2020 financial year.  Unless they can obtain an interim allocation of visas to give away – they will be unable to re-open until the 2021 Migration Program is announced.  It's possible that applications for state nomination which were already lodged, may still be processed, but that will depend upon whether the State has any allocation left.  Victoria, for example, closed abruptly and set about refusing many of the prior lodged cases.
Already lodged skilled visas are still being processed, with delays reported by offshore applicants.
Employer Sponsored Visas are still being lodged and processed – but we are observing additional scrutiny by the Department to ensure that the position is genuine and an Australian worker can't be found instead.
Student Visas  – apart from a small Canberra based pilot of some existing students returning to their universities, student visas are on hold until travel returns.  This stands to have a devastating effect on Australia's education sector, which contributes $32 billion to Australia's Gross Domestic Product.
The shining light at the moment is the Global Talent Visa.  These visas continue to be processed quickly; and this week we have even had some offshore Global Talent visas granted.  If you believe that you could meet the requirements of the Global Talent Visa, now is a great time for us to talk!
What can we expect to see in the next few months? 
1. A Reformed Skilled Occupation List. 
A review of the Occupation Lists was underway prior to COVID, with a revision expected to be released in March 2020.  This appears to have been held over.  We expect that there could be some more significant revisions than previously anticipated, given the profound impact of COVID on the economy.  It's possible this could be the most significant reform of the Occupation Lists in many years.
There are certain occupations which have been significantly affected by COVID – including ones in hospitality and tourism.  Given that so many restaurants and hotels have had to close for prolonged periods, and are only now starting to cautiously re-open, it's logical to think that there are now a lot of unemployed Australian Chefs, Cooks and Restaurant Managers.  We are already noticing additional scrutiny from the Department in respect of nominations in the hospitality sector; looking to assess the genuineness of the position being nominated for a visa applicant and requiring evidence that a suitably skilled Australian could not be found instead.  In our view, hospitality occupations stand to be heavily scrutinised in any list revisions – as will other occupations which have experienced a significant increase in unemployment due to the pandemic lockdown.
2. A Different Approach by the States
Quite apart from COVID, the system of State Nomination for Skilled Visas, simply has not been working for a few years now.  This is mainly due to a surge in demand for Australian visas; thanks to the relative attractiveness of Australia to other places, coupled with a reduction on the number of places available (a "target" of 190,000 visas a year was replaced a couple of years ago with a "ceiling" of 160,000 – meaning not only a net supply reduction of 16%, but the ability for the Government to at any time 'under-fill', depending on the circumstances).
Watching the States deal with nominations is a bit like watching the Running of the Bulls in Pamploma.
Last year, for example, Queensland reluctantly closed its doors on the Skilled Program a couple of times; with lengthy periods of time before re-opening, simply because the massive demand outstripped the supply.  In fact, the chance of receiving an invitation from Queensland last year, was somewhat akin to being in the right time and place to observe a solar eclipse.
We've seen all of the States this year revise their nomination criteria.  To the State Governments, every skilled and business migrant is precious, and has been selected based on their ability to contribute economically to that State.  The selected migrants are of little benefit if they leave the State early to live somewhere else.  The States are responding to the supply-demand imbalance – and the propensity for some applicants to break the rules – by imposing stricter criteria on would-be applicants.
If you are onshore in Australia, the chance of obtaining Skilled Nomination from a State other than the one you live in is almost nil.  States are reserving onshore places for people who have already demonstrated their commitment to that State, by studying there, or living and working there for a period of time.  Many offshore applicants need to demonstrate that they either have a confirmed job offer in Australia, or that they will easily be able to find work, before being invited.
We may also see a pro-rata type system by the States in the next year; in response to the "running of the bulls" scenario.  A drip feed of visa allocations into the system may be more effective that a system where, if you happen to be busy when the "gates" open, you miss out for up to a year.
Here is a synopsis of the current state of play with every State, based on a review of their websites today (and not guaranteed to be 100% correct, as sometimes the States do not update their websites).  We believe that new visa allocations may be provided to the States between August and October 2020.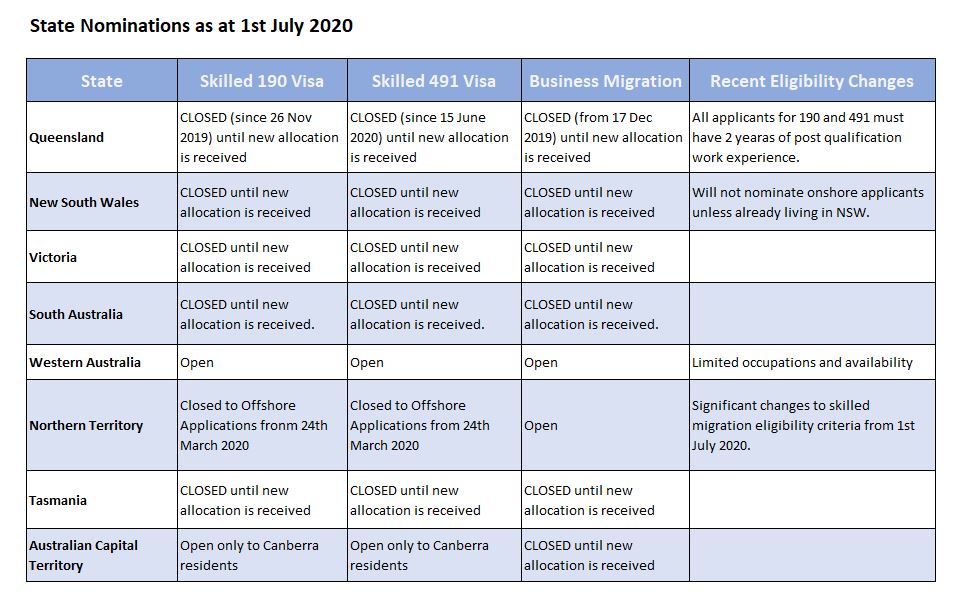 3.  The release of the long awaited Review into the Business Migration Program.
The Business Innovation and Investment Program (BIIP) has been the subject of a number of reviews over the last few years, none of which have yet been released.  When the time is right, we expect that the Government will release some adjustments to the program, aimed to more effectively tweak the return to Australia.
 4. A Further Enhancement of our Inability to Predict the Future.
Often, we are contacted by people who wish to discuss how they should change career path now, in order to obtain an Australian Visa in 2-4-6  years time once they have completed a degree and work experience.  Our standard response is that we can only advise on the migration law of the day, and can't make any predictions about future trends in occupations in demand, visas, or migration pathways.
Now, more than ever, this is true.  Anyone looking for a long-range pathway into Australia may be better off consulting a psychic.
The best advice is that if you are planning future study, either in or outside Australia, make sure you study something that would give you an enjoyable career, wherever you end up in the world.  And if Australia needs you at the time – we hope the stars may align for you.
5. Continued focus on attracting highly talented people into Australia.
The Global Talent Program is strongly supported by the Government, and continues to attract high calibre applicants, in the fields of Agricultural, Financial and Medical Technology; Space and Advanced Manufacturing; Energy and Mining Technology, Cyber Security, Quantum Information, Advanced Digital, Data Science and ICT.  This program is open to high achieving individuals, including recent PhD, Masters and Honours Degree candidates in target sectors.  It provides a very fast and streamlined pathway to permanent residency for suitable people.
6. Continual Political Dissent – and hopefully an outcome that contributes to Australia's COVID recovery.
And finally, something to think about.  The Government carefully determines the size and composition of the Migration Program every year. Factors which are taken into account include the economic multiplier effect of skilled and business migrants; and this is put in context of the environment of the day.  There has been much debate lately about migration.
The hard right wing view is that we need to stop migration altogether and look after 'our own' in Australia.  "Those Migrants are stealing our jobs", etc.

The hard left wing view is not too dissimilar.
The more centralist view – based on facts – is that Australia's success was built on migration, and we must have a sustainable level of migration to enhance and grow our economy.  Successful business migrants and highly talented people will create businesses and opportunities that will employ Australians and create exports.  Skilled workers will fill skill gaps, enabling businesses to grow and then employ more Australians.  Family migration is important to support Australian citizens who might be partners; and parents coming in to Australia support their Australian children with childcare, and allow them to participate in the workforce.
 Will Australian Migration stop altogether?  No.  Will it change?  Yes.
In the meantime, the wait continues.