Are you concerned you don't have enough Points to get an invitation for a visa?  Your luck might be about to change!
Recently, demand for scarce visas under the Skilled Migration program has outstripped supply to such an extent that the effective points required for an invitation have skyrocketed.  Although the minimum number of points required to be eligible to apply is 65, we are now seeing people need 80+ points to be invited for some subclasses.
Why do the Points Requirements vary each month?
The "Pass Mark" for Skilled Migration is legislated by the Government, and is currently set at 65.  That means, you cannot be invited for any sort of visa if you have less than 65 points.
However, Skill Select is market driven and its behaviour can be likened to the Share market.  Say for example I want to buy a share in company A, which is listed on the Stock Exchange.  Right now Company A is trading for $10 a share, and there are 1 million shares on offer.
If Company A's shares suddenly experience a surge in demand, and the supply remains at 1 million shares, there will be increased competition and I might have to pay $15 to get a share, instead of $10.
Conversely, if Company A suddenly became less attractive to buyers, but there are still 1 million shares, I might be able to pick up a share for $5 instead.
It's the same with Skill Select.  The Government limits the supply of visas.  It has set a limit for 2019-20 of 18,652 Skilled Independent Visas (Subclass 189).  Last year the limit was 39,137.  The number of visas on offer has dropped by more than 50%; and therefore less invitations will be issued, and the places available will go to the highest point scorers.
Soon there will be new ways to accrue Points
The good news is that from November 16, 2019, there will be some changes made to the 'Schedule 6D' Points Test for skilled migration.
Winners will be people who have advanced qualifications in Science, Technology, Engineering and Mathematics (STEM) fields (an extra 5 points); people who are prepared to apply for a Regional Provisional Visa (an extra 5 points);  people with partners who are skilled and have competent English (an extra 5-10 points); and people who are single (10 additional points).
The changed points test reflects the government's desire to incentivise people into regional areas, by awarding extra points for the new Subclass 491 visa.  If you're interested in a regional visa, and you have a partner with skills and competent English, in November  you would potentially be 15 points ahead of where you are now!
Below is a Table where we have summarised the changes to the Points Test after November 16.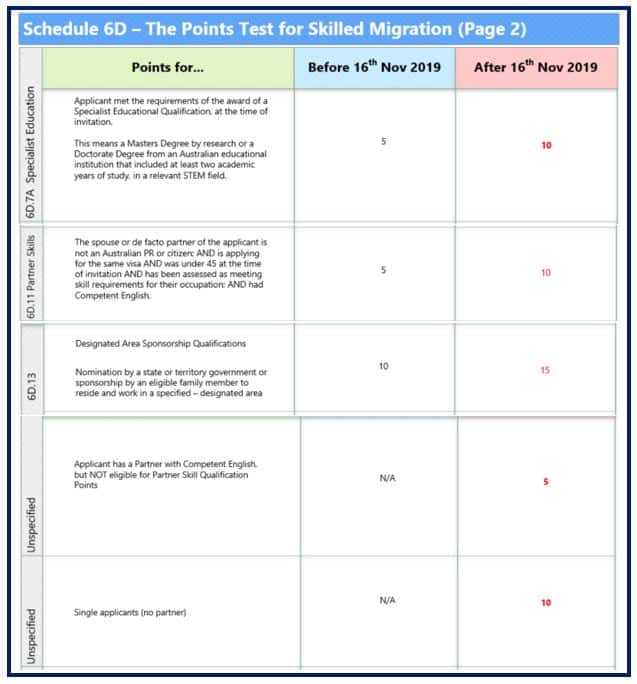 Other points categories remain unchanged.
We've compiled a fact sheet which incorporates the entire Points Test, please contact us if you would like a copy.
Things to remember about Migration Points
The most important factor is that you must provide EVIDENCE of all points claims.  It's not enough simply to say that your partner has Competent English, for example – that must be evidenced by either an approved English test, or a passport from an exempt country.
Incorrect points claims are the number one reason for Skilled Visa refusal.
Would you like to be in the driver's seat when it comes to the November 16 changes?  It could be a great time to speak with us now, and let us help you get started on your application for a Skilled Visa!